Canning Stock Route (CSR) by Bicycle 2015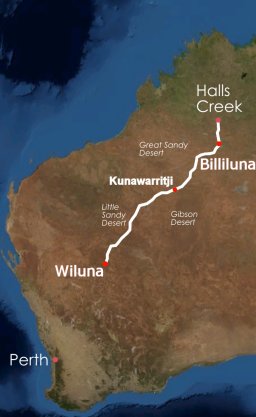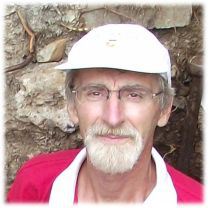 In September 2013 I travelled the Canning Stock Route (CSR) with my wife in a Suzuki Grand Vitara (white 2002 automatic model, 4-door). I took a conventional MTB bicycle (Cannondale Super V500) on the roof-rack, and cycled just 30km of the approx. 1,650 km we did in the 4x4. Despite finding it almost impossible to cycle such sandy terrain on that bike, I loved it - I was hooked! So I gave myself a Surly Moonlander for Christmas in 2013. And I planned to come back in June 2014 (I cycled just 160km out of Perth that year). Although I didn't cycle the CSR in 2014, in August 2015 I did come back, and cycled (on a Wheeler, Savana) a direct route of about 1,620 km from Billiluna to Wiluna in 26 days, fully supported by my daughter in a Suzuki Grand Vitara XL-7 (dark-blue 2003, 2.7L V6, manual model). I had a lot of fun, some pain, but never stopped smiling!
This website documents my love affair with the CSR in August/September 2015.
As you'd expect, all images and text are © Copyright Peter Gargano, but I'm happy for all images that are no larger than 1920x1080pixels, to be used without permission as long as attribution is acknowledged explicitly as described above. Where possible I've provided copyright information for all images that I have used (or I link directly to the owner's website).
I have some information on my 2015 CSR trip available from my Canning.Cyclist Facebook pages and also my personal Facebook pages.
Peter Gargano - brief cycling history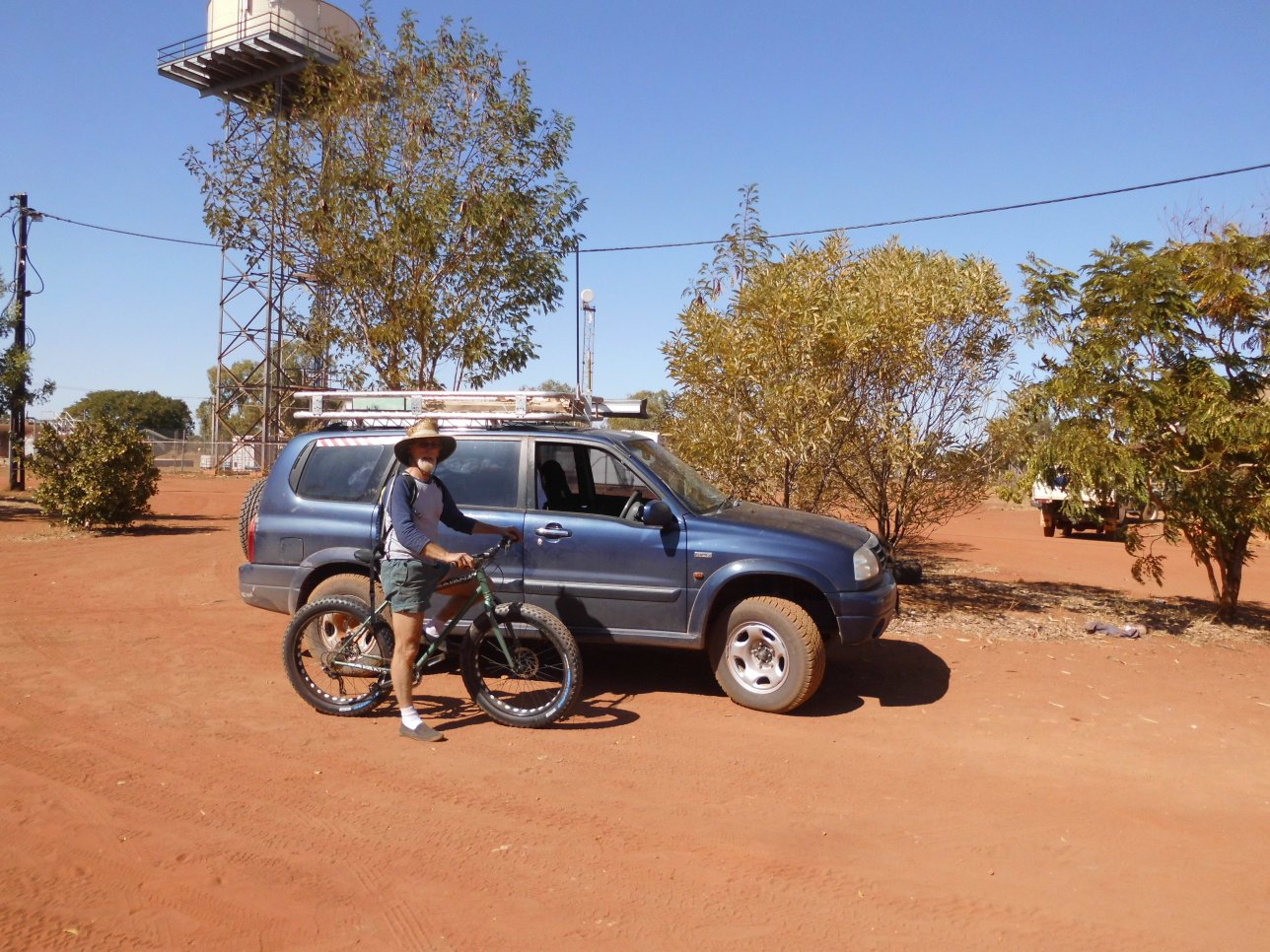 I've been cycling ever since my father bought me a bike when I was maybe 7 or 8. I didn't cycle much from after primary school, to until I had children and realised I needed to keep fitter than I had been. In the early 1990s I made up a bike from spare parts - I raced it with the ACT Vets (ACTVCC) until the mid 2000s when I found it difficult to find the time to keep as fit as I needed to be to win as a B-grader (and I found that younger cyclists didn't like my being able to keep up with them!).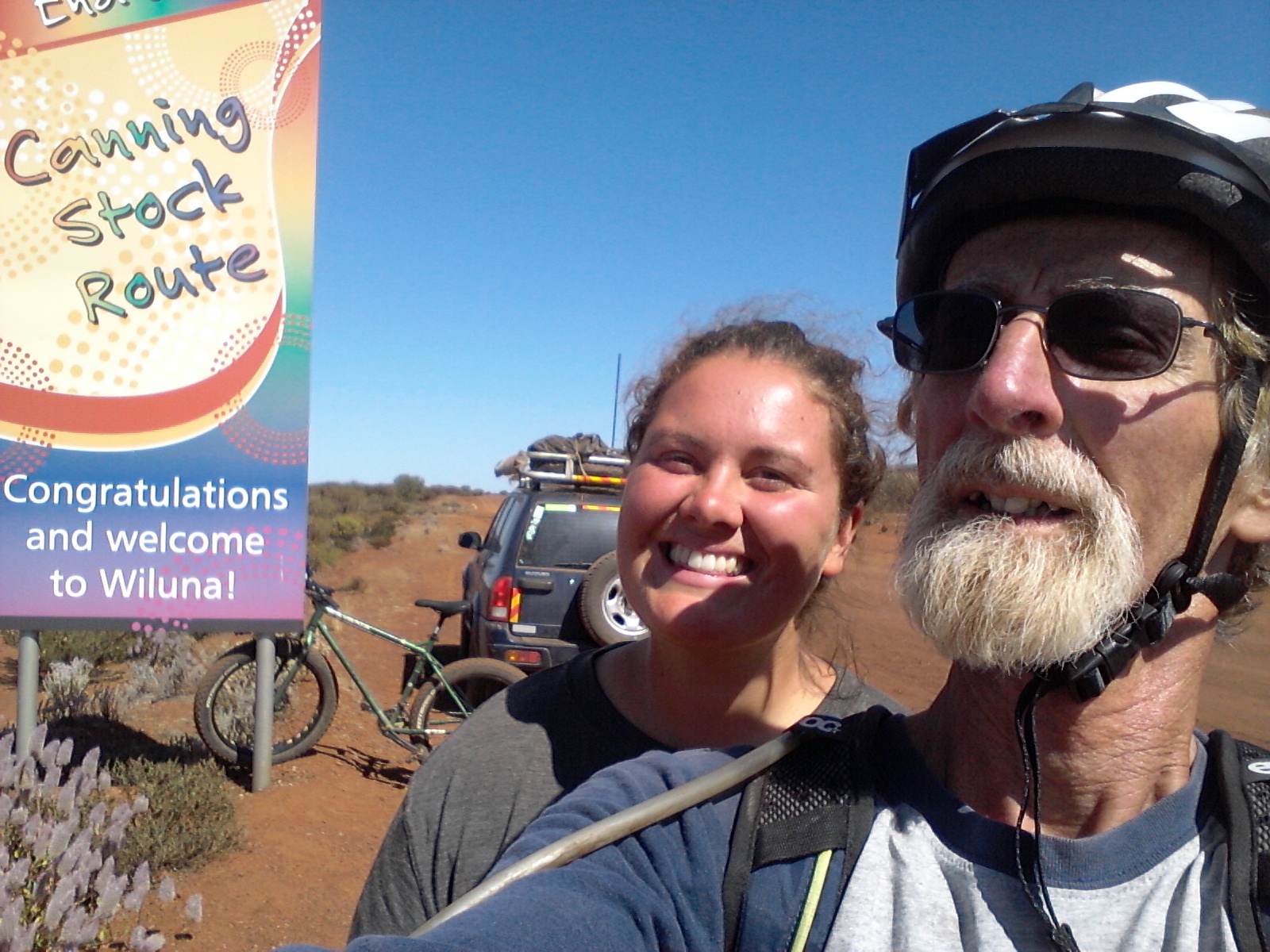 During that time I bought other (second hand MTB) bicycles and cycled a few long distance trips (Canberra - Melbourne via Mt. Hotham; Canberra - Mt. Kosciuszko return; and overnight trips to the coast via Deua National Park; and The Brindabellas west of Canberra). My 2015 approx. 1,620 km journey through three WA deserts over 26 days is certainly the longest journey I've undertaken on a bicycle and I hope it won't be the last.
I'd just turned 62 when I started out on my CSR journey in 2015 (image at left - leaving Billiluna 9:41AM 11 August 2015). I became the twelfth (*) cyclist (the sixth Australian cyclist), and certainly the oldest, to complete a traverse of the CSR by bicycle (up to 2016). This is a bicycling record I hope to maintain, possibly doing it unassisted, and in novels ways, in future traverses.
In 2015 I was aided by my 24 y/o daughter Dian (Dee) who carried all my support equipment and food, and drove a 2003 Suzuki XL-7 4x4, all but one of the 700-900 odd sand-ridges from start to finish. I drove that very first serious sand-ridge between Well 47 and Well 46, and made it on the third attempt, to demonstrate how badly I could drive the Suzuki, then went back to collect my bike. I should have made Dee do that first big sand ridge - but she did many larger sand-hills in the next 1,400 km. Image at right shows Dee and I at the last CSR sign a short way out of Wiluna in the early afternoon of 07 Sept 2015. Note that we had an enforced two day "rest" period, close to Kunawarritji, where I repaired the support vehicle - this is why it's an elapsed 28 days!
CSR 2015 - Day by Day
Coming soon - a photo + maps + text day-by-day account of my 2015 trip. Here's a link to the complete map to get you started - Don't be fooled by the menu in this image - clicking on the image takes you to the real map: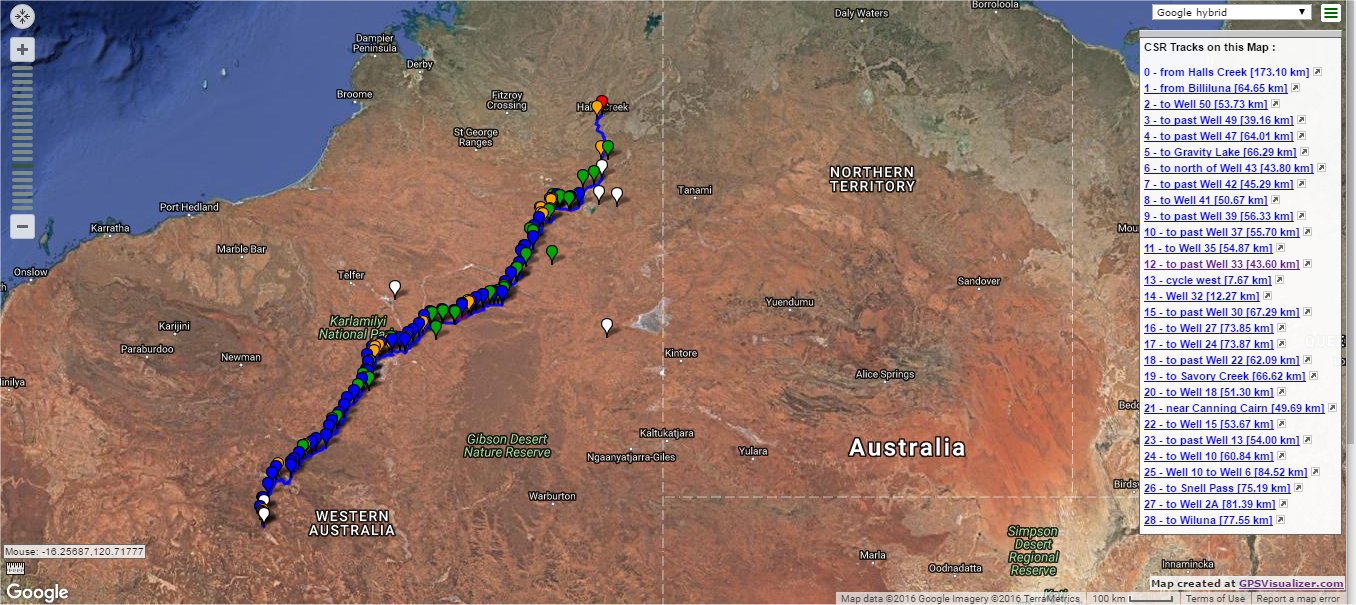 ---
(*) - sas I write this there is some conjecture as to exactly how many people have completed 100% of the CSR by bicycle (or by foot).
Copyright © 2016 Peter Gargano. Amendments? - email me: bike.csr@gmail.com.