The following text was written by Robin Rishworth the first cyclist to finish a complete traverse of the CSR. It was reproduced in Australian Cyclist magazine Oct-Nov 1997 - I have added some headings, dates and other notes/corrections that are enclosed by [square brackets]. Also, read my analysis of the first and second (Bob Simpson) CSR cyclists CSR Duel 1997 - Robin Rishworth vs. Bob Simpson.
---
Robin Rishworth - 1997
Introduction - A Year in the Planning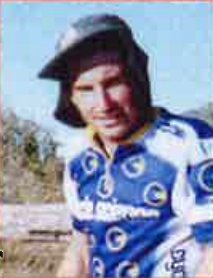 The CSR is becoming one of the nation's most popular long 4-wheel-drive adventures; it is so long that motorists require fuel to be transported 400km from Newman for their vehicles. This year [1997] over one thousand 4-wheel-drives are expected to drive it, but the track had never been completely cycled. Larry Nolan and Alan Davis attempted it separately last year, I also had an attempt at the Canning last year. I cycled down as far as Well 51. This year, I succeeded in cycling the full length of the Canning in July, riding alone carrying my own 60kg load and without a support vehicle. I started with 10 days' food, and had to be totally self-sufficient for the first 400km. The amount of water I carried varied from 5-15L.
Some of the stumbling blocks for a cyclist are the large number of sand dunes, the temperature extremes (I experienced a range from -4° to 35°C), long sections of corrugations, the track's remoteness and lack of water. I was fortunate to have a really strong tailwind every day but two.
After my 1996 experience, l spent a year planning a successful cycle of the Canning. I had to be fresh; no cycling through the Tanami Desert beforehand like last year. My bike had to be strengthened to handle the corrugations; the drivetrain had to be new to handle the sand and salt.
Last year I couldn't carry enough food and water. This time l arranged for a friend to bury five food drops at about five-day intervals, 11 bottles of Coke, lollies and water every 20-30km in old 2-litre Coke bottles. Peter Holloway of Cycle Science Mitcham, rebuilt the bike except the frame. I used "Jar bars" on the front to absorb the corrugations. Wide 2.35" [60mm] Ritchey tyres supplied by Ken Evans Imports gave better grip in the sand - they looked brand new at the end.
Started Cycling from Halls Creek - 9:00AM Wednesday 18th June 1997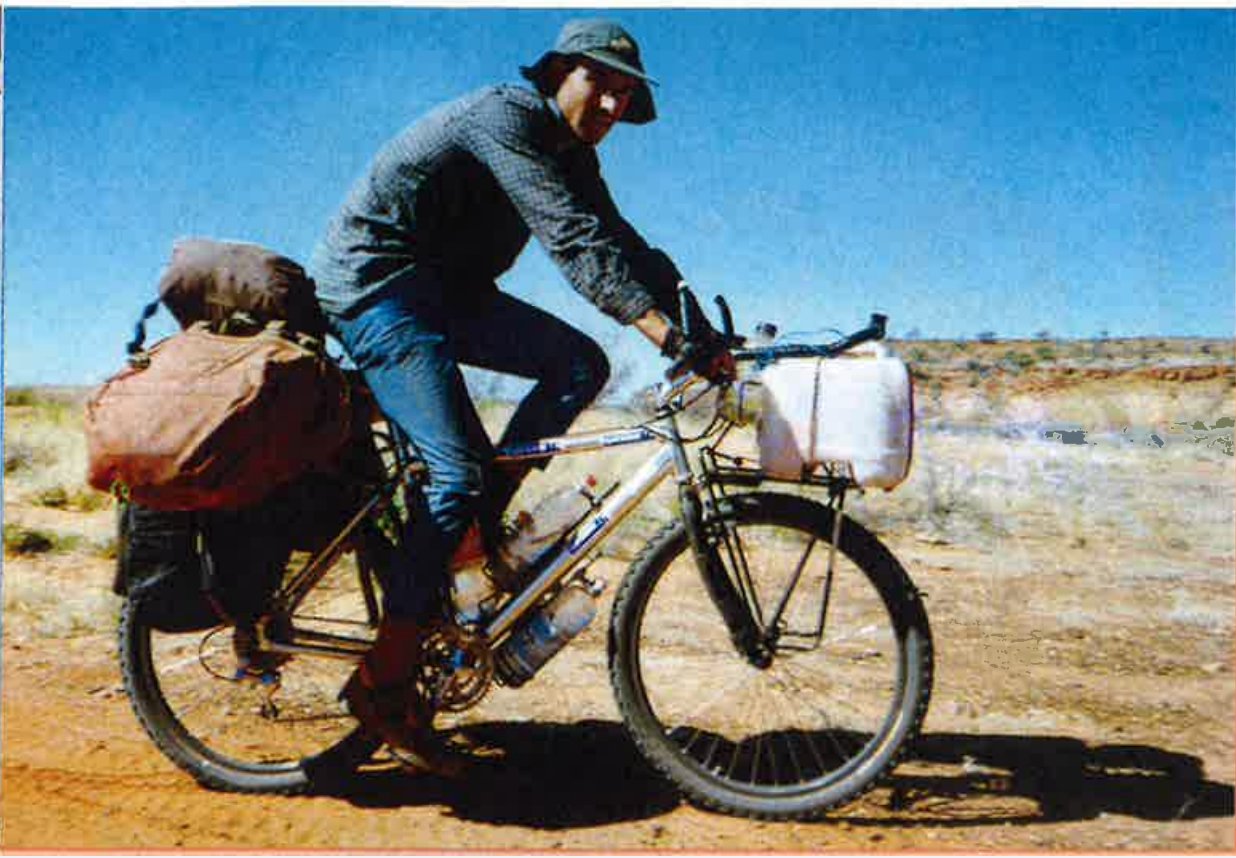 I flew from Melbourne to Kununurra and bussed down to Halls Creek. On 17 June I cycled 30km on good gravel to the remains of the Old Halls Creek Post Office Official start of the Canning Stock Route, [later returning] to camp in the Halls Creek Caravan Park. The following morning [18 June, day 1], after 16km along the Great Northern Highway, I said goodbye to the bitumen for the next 26 days. I rode a further 100 km down the Tanami Track to Billiluna, a small aboriginal community, arriving at 11PM.
[19 June, day 2] Waiting for the store to open, I fixed the previous day's three punctures, then cycled 70 km into darkness with a full moon. The next day [20 June, day 3] I passed Well 51, the track becoming increasingly sandy. It was 33°C and thorns kept piercing my tubes - I suffered a further four punctures - but I had covered 83 km by 11PM.
In the morning [21 June, day 4], l found my rope too short to retrieve any water from the well. Luckily other campers supplied a longer one. I began the day's ride with the usual photo session which every 4WD party seemed to want of me. I usually charged them a few lollies or a can of soft drink. Five km south of Well 49 l passed the furthest point Larry Nolan had reached with his bike in 1996.
Many long flat sections of sand were totally unrideable, requiring pushing. Tree branches overhung the track, cutting my hands on occasions. I had some good solid cycling approaching the table-topped Breaden Hills, the most substantial relief for 1,000 km. Parking my bike, I climbed Crown Head for a panoramic view.
I returned to my bike to find five 4WDs parked around it. Their drivers incredulous: "A bike shouldn't be out here!". My answer to "How far are you going?" elicited even greater consternation. Small sand-hills restricted me to 53 km for the day. I stopped when I couldn't see the track.
Taking the "Nat-Map" CSR track bypassing Well 47
[22 June, day 5] After side trips to trig points on Mt Romily and Crescent Ridge, I rode a fast 15 km on rock, averaging 25 km/h, to restored Well 46, a beautiful spot. I had been unable to contact my friend, Peter, who was to put my food out - a motorist told me his car had broken down. I didn't seen any vehicles for a day, and, with only three days' food left. I contemplated what to do.
[23 June, day 6] l decided to push on but the dunes became bigger and it was 30°. I met my one and only vehicle for the day; the occupants told me they had seen Peter two days earlier. What a relief! Now 400km south of Halls Creek, the dunes, spaced every 500m were unrideable but lots of fun. On dark after 70 km, l camped at the remains of Well 45.
[24 June, day 7] For the next two days I encountered the Canning's biggest dunes and covered only 42 and 43 km. Large burnt areas made the sand very sticky and extremely hard to ride. The track wandered a bit, so I spent most of the two days cycling direct from dune to dune up to a kilometre from the Route.
In this stretch I finally met friends Peter and Laurie who gave me lunch, while I fixed a puncture, and [they] explained how to find my buried food and water. I took six hours to cover the next 20 km, pushing the bike until 9:00 PM to camp at the northern edge of Lake Gulli beside a buried water drop.
[26 June, day 9] After fixing another puncture, I rode an easy 5 km across the salt lake to Well 42, just a post in a puddle, then walked 10km of corrugations back into dunes and out of the burnt area. My first supply dump contained several large tins of fruit, a fruitcake, breakfast cereal, muesli bars. potatoes, apples, biscuits, cheese and, importantly, a beanie.
A valve blew out of my tube and I spent the rest of the day trying to fix my other two already heavily patched spare tubes. Failing, I had to await help from motorists - I didn't know for how long; perhaps two or three days? Blocking the track with branches and leaving a note, I walked 5 km to dig up a water bottle. Four people who pulled up later spent 3 hours helping fix my punctures. It was a relief to get moving again. I covered 25 km that afternoon including a fast 6 km across dry Lake Tobin. I camped under a stand of desert oaks with the group from Busselton who had fixed my punctures.
Making Up Lost Time - It's Too Cold in the Morning!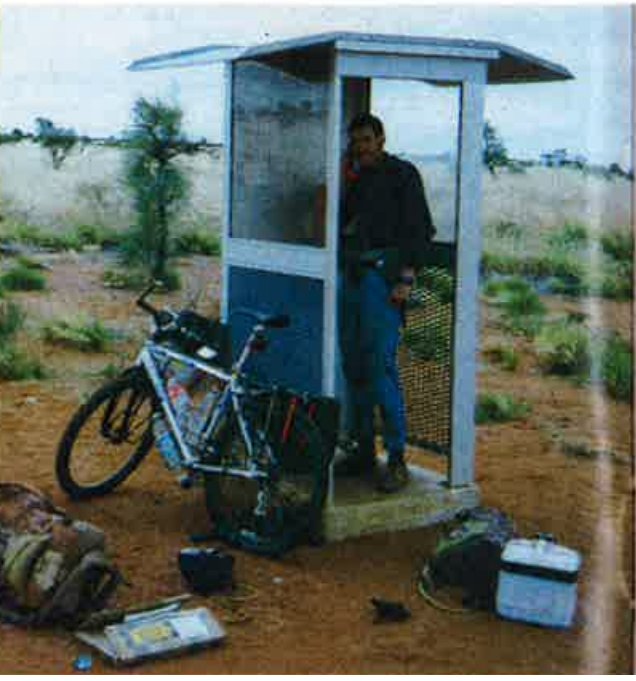 [27 June, day 10] To make up lost time, I started at 5.40 am. It was extremely cold, my hands were numb and I had to push over big dunes to Well 39. I covered 52 km. The next day [28 June, day 11] I took the alternate direct route from Well 36 to 38; this was overgrown and appeared unused. I pushed the bike for 38 of the 40 km over big dunes including Mt Shoesmith, arriving at Well 38 after sunset. This was the toughest day of the trip; I was utterly exhausted, having averaged just 4.6 km/h for the day!
Next morning [29 June, day 12] the track improved - I was able to ride half the time. I reached Well 35 just before midday and left the dunes behind for 120km. Now I had to contend with wide plains and corrugations. I camped just beyond the Well 34 turn-off with rain threatening.
[30 June, day, 13] At Well 33 I dug up another food drop and had a bath. Four km south, at the Kidson Track intersection, the first road out to a highway for 700km, there is the only telephone on the whole Canning Stock Route. It is for reverse charges calls only. Vicious corrugations meant very slow riding for the remainder of the 52 km day.
[01 July, day 14] Motorbikes had chopped up the track making it difficult to ride. By lunchtime I had covered just 18 km. Gradually the track improved, traversing gibber plains and a section with pretty trees and gullies near Well 30. I camped 7 km further on after a 53 km day.
[02 July, day 15] With another early start and lots of dunes, I made good progress to Thring Rock, covering 32 km before lunch. I finished with 74 km including pushing over 60 dunes, sharing my camp fire on top of a dune with two camels. [03 July, day 16] Beyond Slate Range I made better progress to the halfway point at restored Well 26 which had good water. Pushing on over more dunes, I camped on top of one after a 66 km day.
[04 July, day 17] The country became easier and I could ride most sections between sandhills. It was flatter after Well 24, but 5 km of thick sand meant I had to drag my bike. At 10PM I camped at Georgia Bore.
[05 July, day 18] Lots of corrugations and my first headwind slowed progress to the Well 21 turn-off. A traveller told me the southern section was flooded with more rain on the way. My morale dropped; had I come all this way to fail due to weather? I trudged into the headwind for 20km sometimes pushing the bike or occasionally going cross-country over a dune to save a few kilometres. I was feeling lonely having seen only one vehicle for a day and a half. Late in the day I saw nine. I travelled into the night to camp after 70 km with a southbound party under some desert oaks with a View to Lake Disappointment.
Disappointment - It's Still Too Cold for Early Starts!
[06 July, day 19] I was on the track by 5AM, determined to cover the 115 km to Durba Springs. Bitter cold forced me to stop after 5 km at the tum-off to Well 20 and light a fire. At 8AM I started again and struggled to ride for the next hour, before falling asleep in the sun for an hour. Cold had drained my energy. This experience made me wary of early starts for the rest of the trip.
Sand and salt flats adjoin Lake Disappointment. Savoury Creek, the only significant stream for the entire trip, is salty. I forded the 50 metre wide muddy stream with a 4WD group filming me. For the film rights I had negotiated a bowl of water to wash my feet. In addition I scored three pairs of socks and a tuna sandwich! For the rest of the day I passed 18 more vehicles, narrowly missing being run down by one flying over a dune.
After two hours fixing a puncture, I found my pump was broken. I flagged down a vehicle to get my tyre pumped up. I was forced to walk much of the next 60 km but, on dark, I met a group of Tasmanians camping beside a claypan. After tea and a rest for a couple of hours, I went on in the dark for 4km to camp after a day of only 42 km.
[07 July, day 20] I spent most of next day walking into a strong, cold headwind wearing my Goretex coat. Crossing the Tropic of Capricorn l was just able to start cycling but the headwind was relentless. I could only reach 8 km/h on a flat claypan but at least I was riding. Gradually the terrain became rockier and my pace increased. Another 22 vehicles passed heading north and three groups helped by pumping my leaking tyre. I heard there had been hail the previous night at Durba Springs, my goal for the night. If I made it, I promised myself a half-day rest. My tyre kept deflating but progress improved because the track was damp. I was nearly cycling over the largest dunes. When my front tyre became completely flat I continued riding with difficulty for two hours. On dusk I flagged down a vehicle from the north and had my tyre pumped up. The driver said he had been following my "odd" tracks all day. His was the last vehicle to overtake me on the trip.
At Durba Springs at 9.30PM, there were about 25 vehicles. I settled at the first camp fire with a group from Esperance, WA. They gave me food and, in the morning [08 July, day 21] while I relaxed, fed me bacon and eggs, serviced my bicycle and fixed my pump, tubes and lilo which had around 20 punctures. It was great relaxing for a morning but I knew I had to keep moving - I had heard a rumour that another cyclist was behind me, also attempting to be first to cycle the Canning.
I left at 2PM, dug up my next food dump with extra clothes, runners and an extra tube. I enjoyed a strong tailwind and a view of Durba Hills, detouring to climb Canning's Cairn. More burnt area meant more walking; I hated burnt areas. Crossing more sand ridges, I stopped near Well 16, after 43km.
Southern Section is Faster & Easier to Ride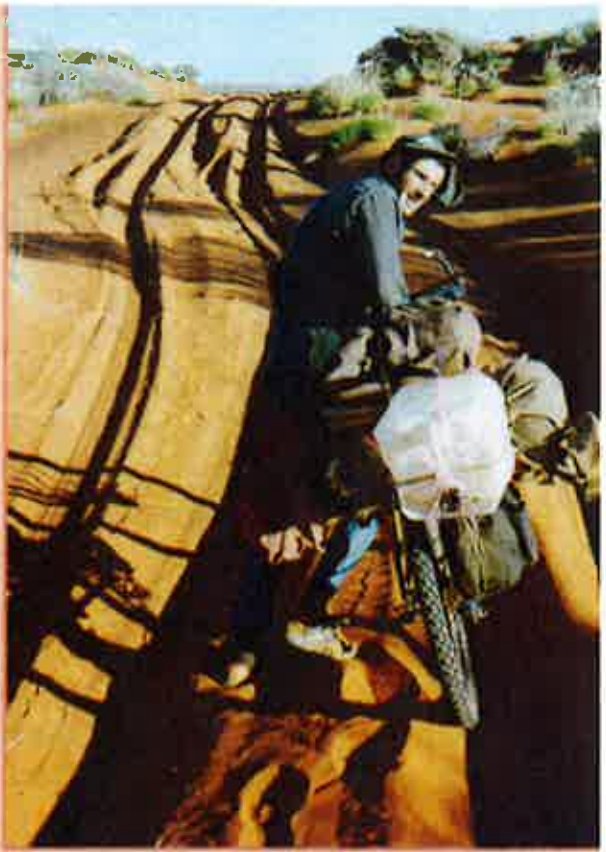 [09 July, day 22] More sections were becoming rideable but I struggled to reach 7 or 8km/h through burnt areas. I looked forward to the sand ridges - they were still fun and appeared regularly, as did the wells. I was able to ride for 15 km without stopping and camped in a burnt area 8 km south of Well 13 after a day of 86 km.
[10 July, day 23] Two hours' difficult riding took me out of the final large burnt section into more dunes. I skirted the edge of Lake Aerodrome for 8km, traversed the final 20km of sizeable sand ridges and reached Well 11, nearly home.
[11 July, day 24] The track became more clay-based, vegetation changing from spinifex to medium-sized trees, with emus and kangaroos too - the first I'd seen on the Canning. Well 9 had a windmill and cattle. The different terrain made me feel I was at last out of the Great Sandy Desert with under 300 km to go. My final food dump was 2 km south. I pushed on very tired for another 6 km so that I could say I had ridden 100 km on The Canning in one day.
[12 July, day 25] The track was deeply rutted clay but I was passing Wells regularly. Another two vehicles passed and I was given chocolate, congratulated for getting so far, but had been mistaken for a cyclist from Perth of whom they had heard on the radio. After 20 minutes with them, I was becoming edgy; I didn't want to be passed by this other cyclist, I wanted to be first down the Canning. After another 200 metres, two other vehicles approached. Most of the people were nice, wanting to chat, and I didn't wish to be rude but I had a deadline. Both groups videoed me, took photos and wanted to contact me afterwards. Jean, her husband and brother from Bacchus Marsh gave me lunch and gloves which I needed since cycling gloves are useless in freezing temperatures. Another hour passed.
I pushed on to Well 6, "Pierre Springs", along the most beautiful section of The Canning. The big trees around the well and the leaves on the ground were un-desert-like. If I hadn't been pressed by another cyclist I would have stayed. At 1PM the weather began closing in but I hoped for another hour before the sky opened. A strong headwind blew up. The final 212 km were closed to motorists because of flood waters at Lake Nabberu. I covered 28 km to Windich Spring in just over an hour, skirted the storm and rode 7 km more in the dark - a 110 km day.
I lay exhausted wondering if I could ride the final 177 km in one day. My question was answered next day [13 July, day 26] as I waded a swamp for 5 km and used roads that had seen little traffic this year. A wrong turn took me 1km down a station track. As I retraced my steps a motorist showed me where I was - all I had to do was follow the road I was on and I'd be back on the Canning having skirted Lake Nabberu. I saw no other vehicle before Wiluna, 125 km away.
The faint Stock Route crossed the wide, well-used farm track. I turned back onto the Canning, making slow progress, digging up my last bottle of Coke and lollies at Well 3. Back in sandy country, I walked for some distance past granite outcrops and a large telecom aerial. After 121 km at "The Granites" [Well 2A], a tank made of rock, I found a lovely campsite. I was tired but desperately wanted to end my nightmare. At 2AM [14 July, day 27] with the moon shinning brightly, I packed up but when I was ready to go, the moon set. I walked in the sub-zero cold until 4.30 AM past Well 2. As the sun rose I reached Neds Creek Road, which was five cars wide. From this point I had only 38 km to go and, at 8.45AM [Monday, 14 July 1997], I reach my goal, Wiluna Post Office. In 27 days [26 days 23 hours 45 minutes], covering 1,780km and 900 dunes, with 14 punctures, I had cycled the Canning, from Halls Creek to Wiluna. I believe nobody had put bike tyre tracks the length of the Canning before.
Note: Robin's day ticked over at 9:00AM as that's the time he started from Halls Creek - he was just 15 minutes short of 27 full days cycling.
Bob Simpson's account of his own ride starts next page.
---
comments Copyright © 2016 Peter Gargano. Amendments? - email me: bike.csr@gmail.com.