Peter Gargano wrote the following text over a year after he completed a north-to-south traverse (Billiluna-Wiluna) during 11 Aug.-7 Sept. 2015 (with two day breakdown time). He used a 2015 spec. (totally unmodified) Wheeler 20 speed fat bike (21" frame) with 4" Mission Command (Vee-Tire) tyres on 85mm rims (it came with these). His 24 year old daughter, Dee, drove a 2002 Suzuki XL-7 (2.7L manual, Grand Vitara 7-seat LWB variant) with 215L additional petrol storage (~275L total fuel) in two tanks, a large Aluminium roof rack, and high lift suspension - this 4x4 had 345,000km on the clock at the start of the trip. Peter's intention was simply to see what it was like to cycle this distance through the desert, albeit 100% supported. He regretted not replacing the seatpost with a Thudbuste® and not doing proper training before he left! He also complained about an uncharacteristic headwind in the final 5-7 days of the trip.
---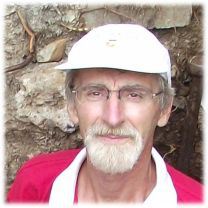 2015 - Peter Gargano - 1,640km*1, 26 days (100% supported)
I am writing a day-by-day account of my traverse with photos - soon this page will have a summary and a link to each day's diary.
I also drove the CSR in 2013 with my wife (Sept.- Oct.) in a normal-wheelbase white 2001 2.5L automatic, Suzuki Grand Vitara. I hope to eventually make public my diary, with daily photos, for this trip too. We did it then in 15 days and I lamented our fast pace - later I said I wanted to re-investigate many CSR features some time in the future. I took a Cannondale MTB (V500) on the roof rack and did less than 10km cycling north from Well 6 (perhaps). I also did a longer cycle to Well 20 from the main track (about 10km there) and almost made it back by the time my wife came looking for me. That cycle was largely the catalyst for me to buy a Surly Moonlander for Xmas 2013. I use that bike in 2014 to Cycle from Fremantle (WA) to 50km north of Northam on a trip to see what it was like with trailer I could use on a future CSR trip.
Note*1 : We calculated a smaller figure (1,621) but we know the smaller figure is a bit larger, so 1,640km is a "guess".
---
comments Copyright © 2016 Peter Gargano. Amendments? - email me: bike.csr@gmail.com.